For many, rugby is a game designed to be played with ball in hand, making intelligent runs and engaging in strong contests in the scrap for territory. With that in mind, kicking the ball is seen as taking away that excitement, and the so-called "kick tennis" that is often seen in matches is usually described as boring and making the game a duller spectacle.
However, kicking is actually just as important to the sport and should not be underestimated, with it being a skill in its own right and one that not every player has in their locker. In the modern game, it is definitely experiencing a resurgence in popularity, with more and more teams turning to it and using it as a fundamental part of their in-game tactics.
It was certainly a prominent feature of the opening weekend at the 2023 Rugby World Cup, with many teams utilising kicks to move the ball around the field and to put pressure on their opponents, and, whilst the hot conditions were decisive in making that the case, with the balls being slippery and handling errors more likely, there is no doubt that it shows how valued a good kick is by the best in the game and why having that variety is essential if success is to be attained.
Applying pressure
The most obvious way that kicking is used is when one team is looking to relieve pressure and to put it back onto their opponents, and this is usually done through long kicks up the field as teams try to gain as much territory as possible and to force their opponents to retrace their steps and start again.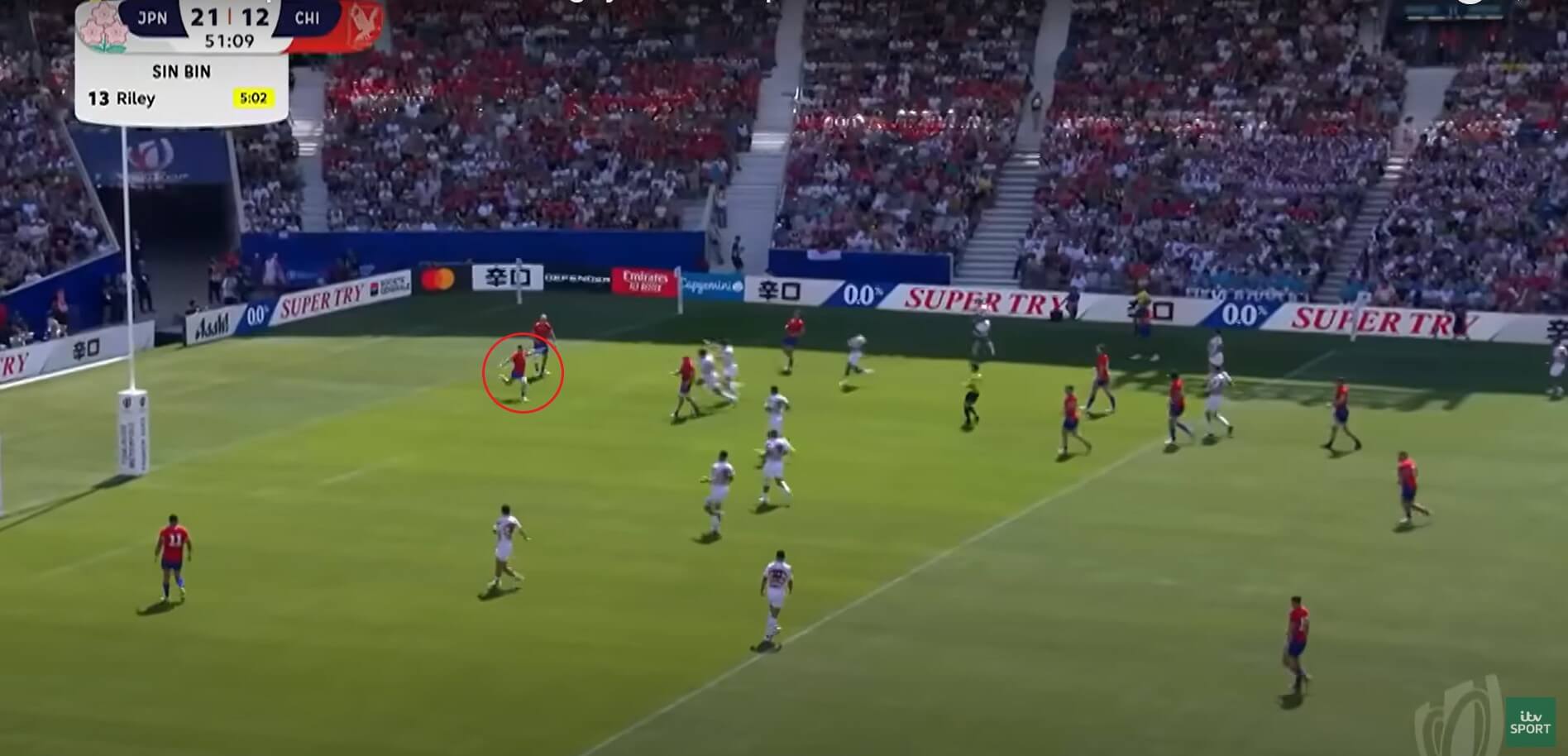 Chile were one side who tried to use these kicks as a way of finding the weak points in their opponents' back line, and that is the key thing about long kicks and is something that some fans miss when watching these sequences play out. It is not only about two teams sending the ball high up the field, but about testing the other side's defensive resolve and seeing if they can force a handling error that could lead to an easy set piece deep inside the opponents' half.
Unfortunately for Chile, Japan were one of the team who didn't want to engage in any kick tennis, and their instinct as soon as the clearance from fly-half Rodrigo Fernández had been caught was to run forwards with the ball and to exploit the gaps in the Chilean defensive line before they could be cut off.
This was not unique, with many teams opting not to send the ball back towards the opposing team once they had received a long kick, and the conditions may well have played a part in that decision-making. The fact that Japan were able to score a try a few phases after this run forward, through long-serving flanker Michael Leitch, showed that it was a decision that paid off for the 2019 quarter-finalists.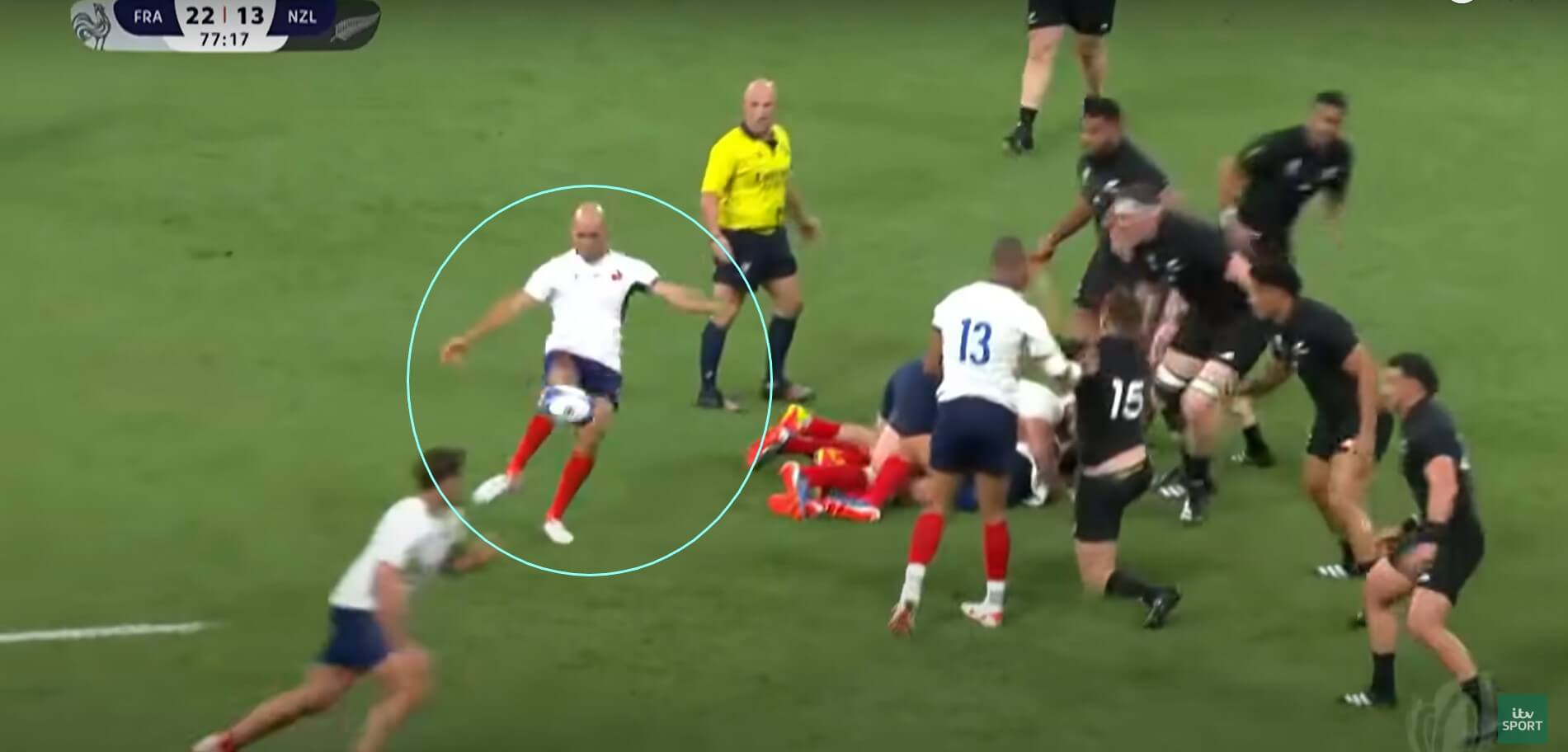 It is not only when inside their own 22m area that teams look to send the ball into the air though, with there also being times when kicks are made high up the field, such as here, when France's substitute scrum-half Maxime Lucu instinctively sent the ball high once he had secured possession from the breakdown ahead of him.
On this occasion, the aim was not to gain territory, but to cause confusion among the opposing players, with the bounce of the ball always being unpredictable and giving the attacking side a chance to sneak in before it has been caught.
New Zealand here made the mistake of allowing the ball to hit the ground and were unable to adjust once it had moved away from fly-half Richie Mo'unga, and the result was that another France replacement, full-back Melvyn Jaminet, was able to steal in and score what turned out to be a fairly easy try.
Again, what this shows is that kicking can play just as big a role in creating chances and getting teams on the front foot as running and passing does, and it is definitely something that teams have been incorporating more into their game plans in recent times as they have witnessed the benefits and rewards that it can lead to.
Stretching the play
The good thing about kicking is that there are more possibilities with it than passing, in that kicks can be made in all directions, and that is another reason that it is such an important part of a rugby match.
At the Rugby World Cup, there have so far been plenty of instances when teams have used horizontal kicks to move the ball around more rapidly, and it has proven to be an effective way of stretching the pitch out when executed with the precision that it requires.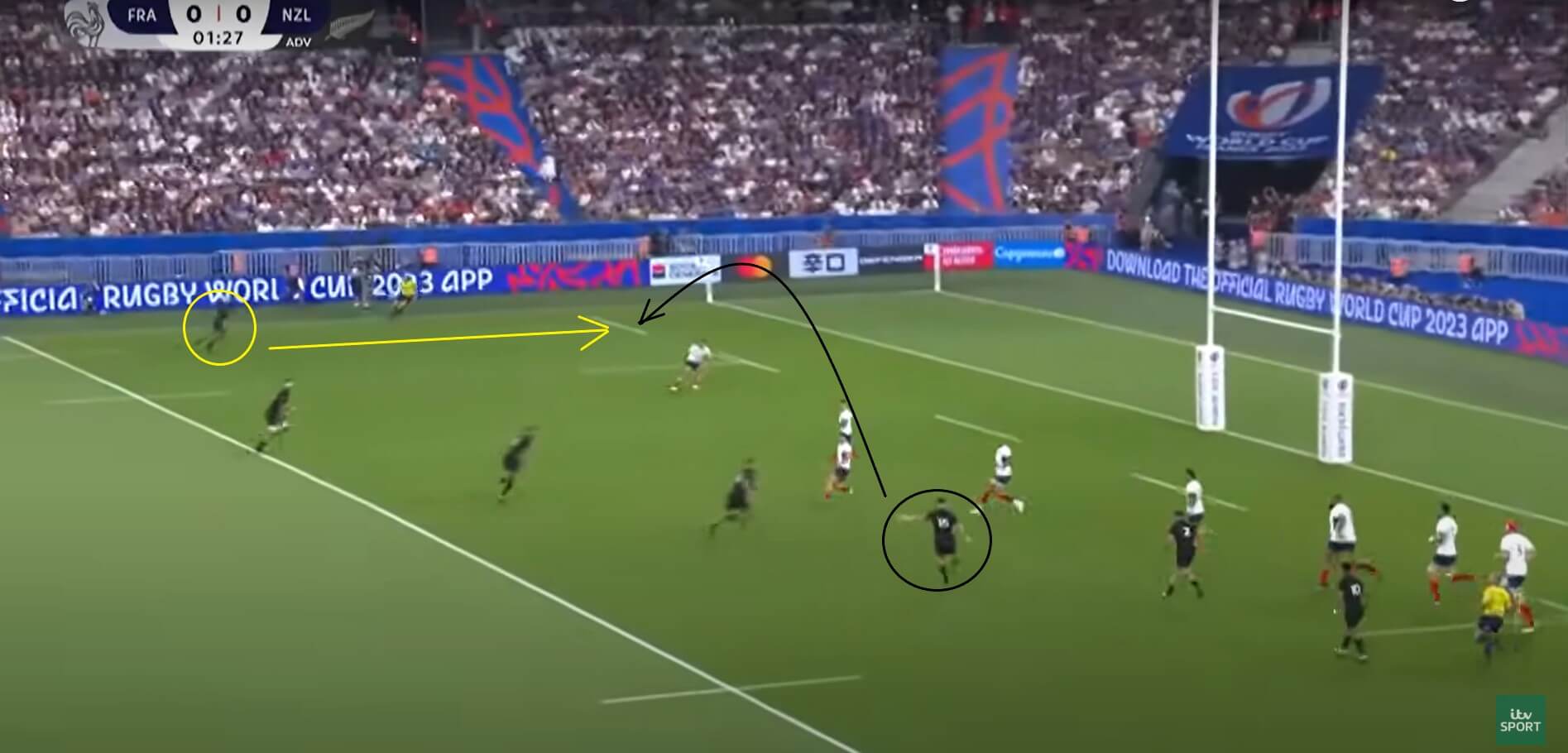 One team who have particularly championed the use of a horizontal kick is New Zealand, and fans didn't have to wait long to see if the All Blacks would use this part of their tactics against France. In fact, it took just a few minutes for the first such move to happen, with influential full-back Beauden Barrett positioning himself in space behind his teammates and scanning the pitch to see where he had teammates who could carry the ball over the goal line.
In this case, it was his Blues teammate Mark Telea who was targeted, with Barrett recognising that Bordeaux winger Damian Penaud had been dragged inside due to France as a whole needing to get more numbers into the middle where New Zealand had previously been trying to find a way through.
However, he knows that simply passing the ball towards Telea would give France an opportunity to get back across the pitch, and speed is of the essence if this chance is to be taken. Therefore, he puts boot to ball and sends it into the open area ahead of Telea, giving the winger something to run onto and leading to the opening try of the match.
Again, the conditions were sweltering on Friday night (as they were all weekend), and that was likely to have helped New Zealand revert to a kick-based game plan in situations such as this. However, the merits of doing so even in cooler temperatures are clear to see, and being able to execute kick passes like this will always give teams a performance advantage over their opponents.
It is not a simple skill to get right though, with there needing to be several aspects performed correctly if these kicks are to lead to success. South Africa are another team whose tactics rely heavily on what they do with their feet, and it was unsurprising that one of their tries against Scotland on Sunday came from a kick across the field.
However, what made this try particularly special was the deception used by fly-half Manie Libbok as he was connecting with the ball, with the Stormers standoff not looking at it and instead glancing ahead of him at Edinburgh lock Grant Gilchrist.
This might be a detail that some miss, but it was vital in giving the Springboks the added second that they needed to get the ball out to the wing before it had been closed off, with Gilchrist and the rest of the Scottish players forced to hold their positions for a fraction of a second longer and the result being that winger Kurt-Lee Arendse was able to escape the tackle attempts of both Duhan van der Merwe and Blair Kinghorn and to ground the ball on the nearside wing.
Again, it highlights how kicking is a skill that required tremendous accuracy and timing to get right, and that is why some teams prefer to run with the ball. However, for those who are looking to adopt it into their game plans, it can bring immense rewards from promising situations.
Building the score
However, there is another reason that kicking is so important in the modern game, and one team who used it in a different way at the weekend was England, with fly-half George Ford sending over three drop goals against Argentina and ensuring that his team were getting points on the board without needing to get anywhere near to Los Pumas' try line.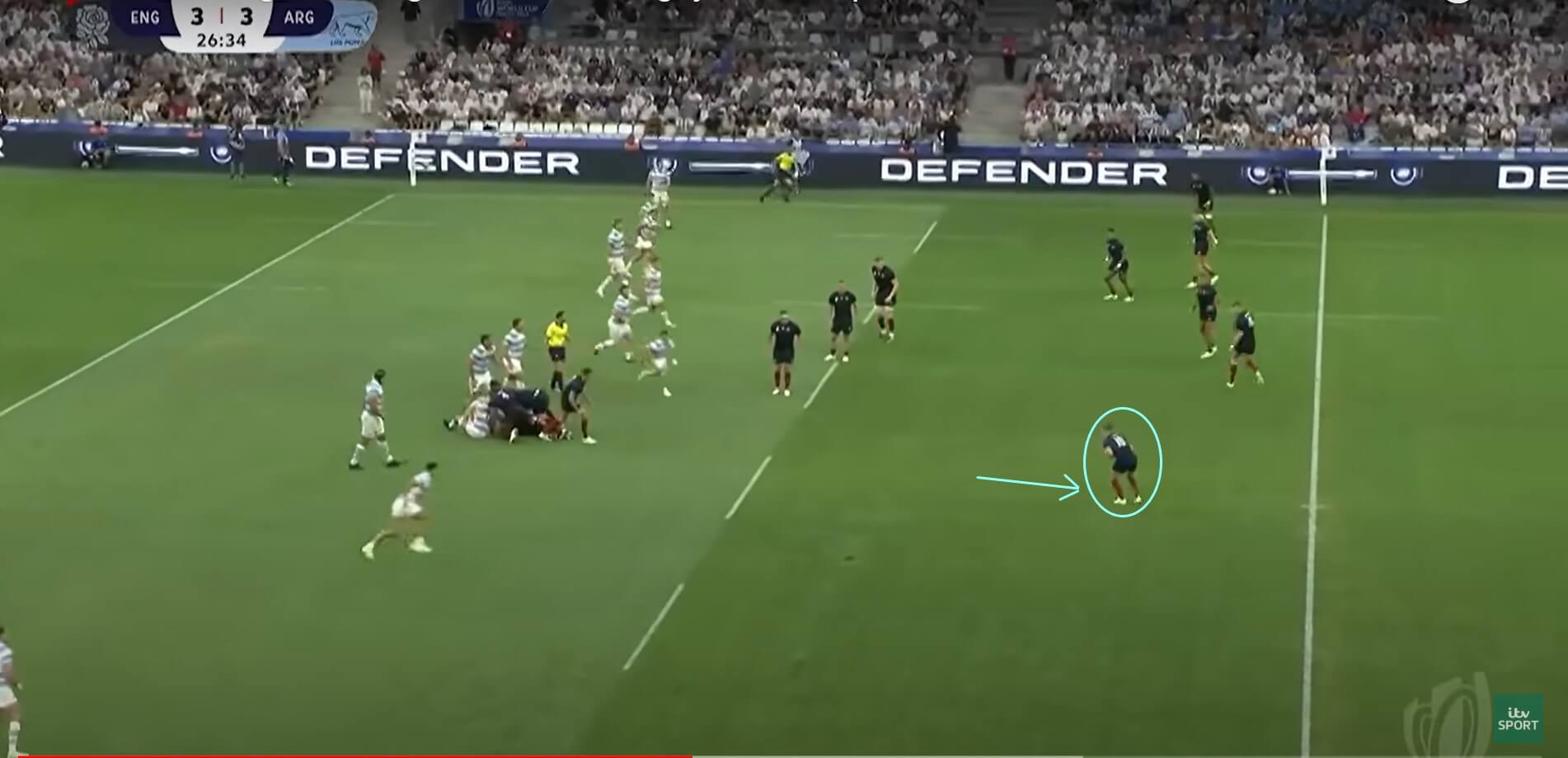 England is a nation that does appreciate a good drop goal, with Jonny Wilkinson's infamous effort in 2003 to win the World Cup one that will live long in the memory of English fans. Head coach Steve Borthwick has reportedly been working on bringing that back into their play for a few months now, and media reports afterwards suggested that they were simply waiting for the right game to come along that would allow them to execute it to its full effect.
Argentina are a team that play with a lot of physicality and who enjoy collisions and close-quarter battles, and so England knew that they were realistically not going to win this match if they simply resorted to carries and trying to make line breaks.
Therefore, they turned towards kicking at the posts as a way of building the score and giving themselves a chance of winning the match, and it became more and more evident as the game went on that this was what their game plan was constructed around.
The understanding that the players had when it came to Ford being the key player was also shown by the decisiveness in their play, with scrum-half Alex Mitchell passing the ball back to the Sale Sharks standoff without hesitating here, knowing that Ford would be ready and that the distance was good enough for him to try his luck.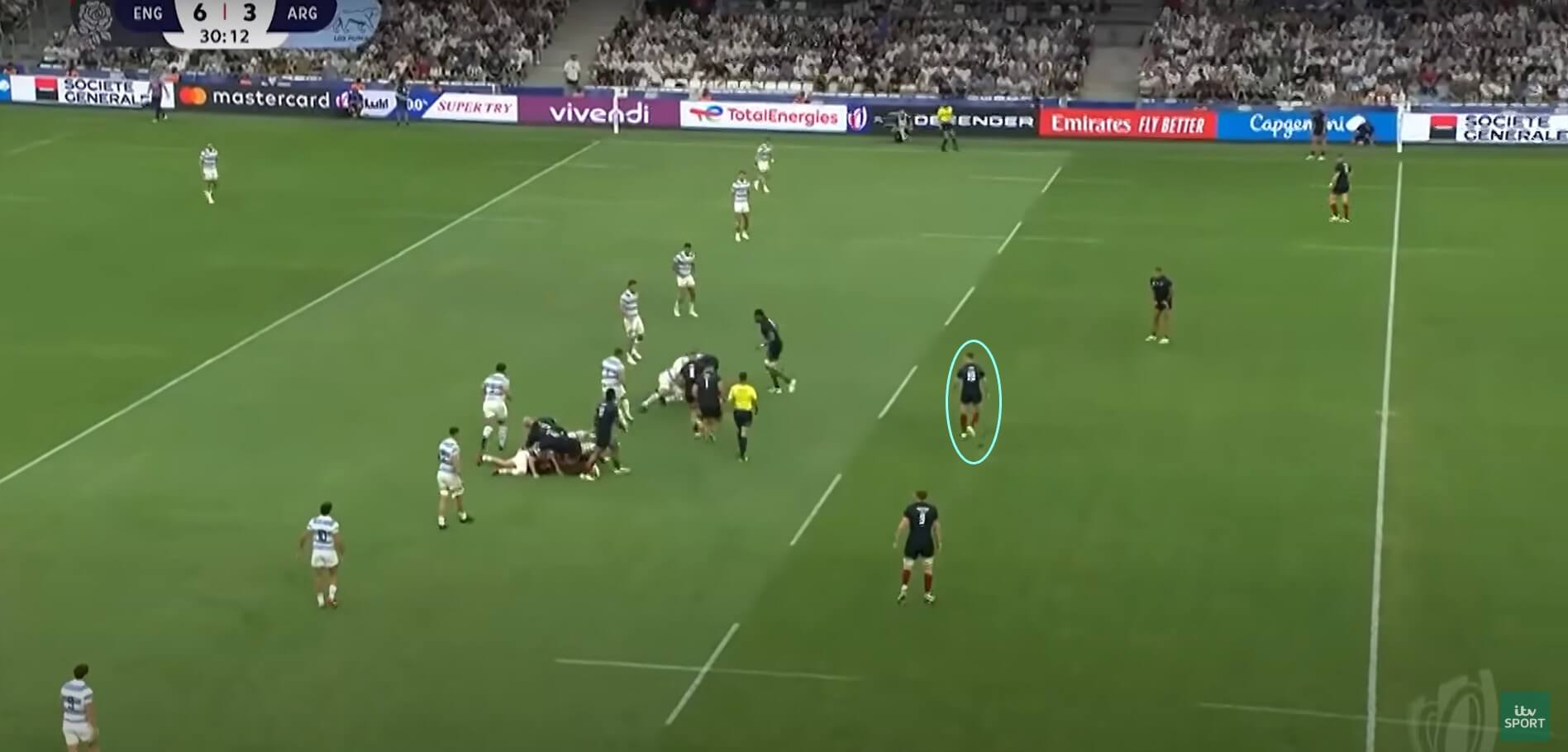 The fact that that effort was successful gave England added confidence and it became more evident how well-rehearsed this was by the way that Ford continually avoided joining in at breakdowns and instead focused on getting into the pockets of space behind as he waited for the ball to come to him.
Argentina, for their part, looked stunned at the final whistle, with it clear that they had not expected England to win this game and had not expected drop goals to be at the centre of their tactics. However, what that indicates is that, once again, kicking is an underrated skill in rugby and is something that a lot of people find unattractive.
Yet, when it is executed correctly, as has been indicated throughout this analysis, it can bring huge success and can change the mood among fans instantaneously, as it seems to have done for the English supporters who, up until then, had been fearing the worst after the team's dismal pre-tournament run-in.
Conclusion
In conclusion, this tactical analysis has taken a closer look at kicking in rugby union and why it still carries a huge importance in the sport, breaking down several ways in which it can be used and providing examples of why many at the Rugby World Cup have turned to it as a way of scoring tries, making territorial gains and of testing their opponents' defensive resolve.
The hot conditions will have been one reason for it being so prominent on the opening weekend, and so it is unsure yet if those who kicked so much will continue to do so throughout the rest of the tournament. However, given that it has led to so much success for them, it would not be a surprise to see them continue to utilise them and to see others start to add them into their own game plans moving forwards.