Bristol Bears have not had things easy during the last few years, with them going from English Premiership title contenders to league strugglers almost in the blink of an eye.
However, despite their team struggles, which have been well-documented in various analysis pieces, there have always been a few players capable of sprinkling stardust into their performances, and that is why, even when not playing at their efficient best, they are still a team worth keeping an eye on.
Their form has picked up in the last few months, with them running Saracens close at the end of January before securing wins over Bath, Newcastle Falcons, Sale Sharks, Harlequins and Northampton Saints, and it was in the last of those games that March's Try of the Month came from.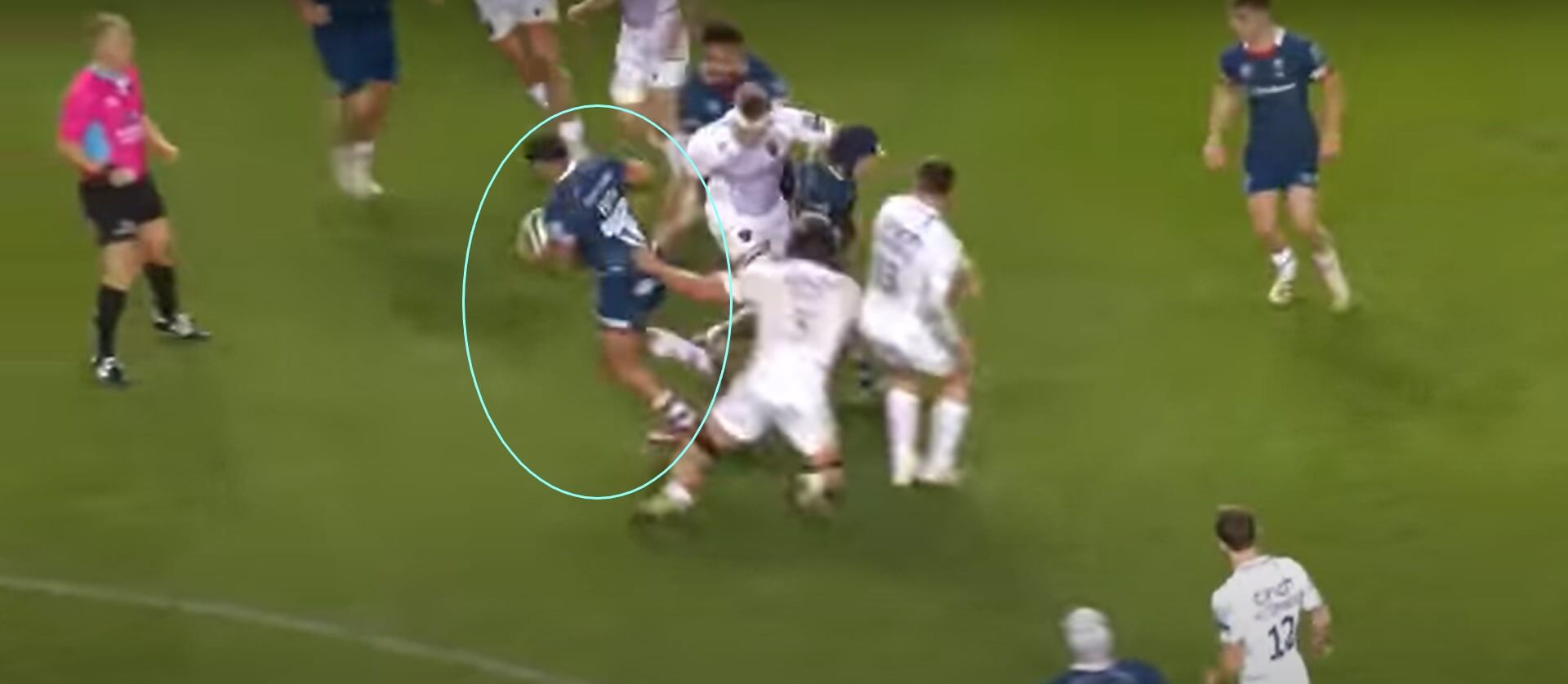 As mentioned, Bristol have several players that they know they can rely on to make things happen, and one of those is undoubtedly full-back Charles Piutau. Time and time again, he has shown his athleticism and physicality on the field and is someone who embodies Bristol's tactics during games with his ability to get on the front foot and work hard both with and without the ball.
That ability to constantly test opponents was clear in the build-up to this try, with Piutau receiving the ball following a Northampton Saints kick and instantly looking to run forwards, with him not even considering the possibility of sending the ball back where it came from, as some in his position might have done.
This shows his intelligence and ability to identify spaces early and exploit them as much as possible, but what really stands out is the way that he did that, with him not running into contact and then going to ground and instead spinning his body in a circle. By doing so, he prevents Northampton lock Alex Moon and centre Fraser Dingwall from getting hold of the ball or him, using his body to block their attempts to rip the ball.
It also enabled him to maintain his forward momentum, meaning that he could get into the spaces behind the Saints' defensive line and start to cause them serious problems. Here, he has made it almost into Northampton's 22 and looks initially on course to finish the chance off on his own.
However, to their credit, Northampton have managed to get numbers back and are looking to seal off the Tonga international's potential routes to the try line, with Italy scrum-half Callum Braley and Piutau's opposite number George Hendy both closing in on making a tackle and ending the threat.
Piutau therefore knows that he will need to offload the ball in order to prevent the Saints from ending the attack, and that is where his intelligence in possession once again comes into the equation. In this case, he notices that England scrum-half Harry Randall is on his shoulder and is waiting for the ball to come to him, but Piutau also notices that simply passing the ball towards his teammate would slow Randall down.
Therefore, he identifies the gap between Braley and Hendy and, once the former has slowed down to make a tackle, plays a well-weighted grubber kick behind them for Randall to chase down, trusting in the England international's pace and giving him a chance to finish the opportunity off, which Randall duly does.
He was helped here by Hendy having to move across the field from further over, which made it doubly difficult for him to reach Randall before the ball had crossed the line, but it was still a really good move and Randall did well to reach it in time.
However, as this try analysis has demonstrated, there is little doubt that, without Piutau's strength, agility and intelligence, he and Bristol would not have found themselves in this position, and that is the key point to make. It is moments like this that show why, despite securing Saracens and England back Max Malins for next season, the Bears will miss the powerful Tongan next season, with him already confirming his summer departure.