Sometimes in the English Premiership there are no words to describe what is happening on the field, and all you can do is to sit back and watch in astonishment at the quality of the play.
February's Try of the Month winner, scored by Northampton Saints centre Fraser Dingwall, was undoubtedly one of those moments, with it comprising of clever spatial awareness, incisive passing and well-constructed combination play, and this try analysis will show why it was such a worthy winner of the monthly award.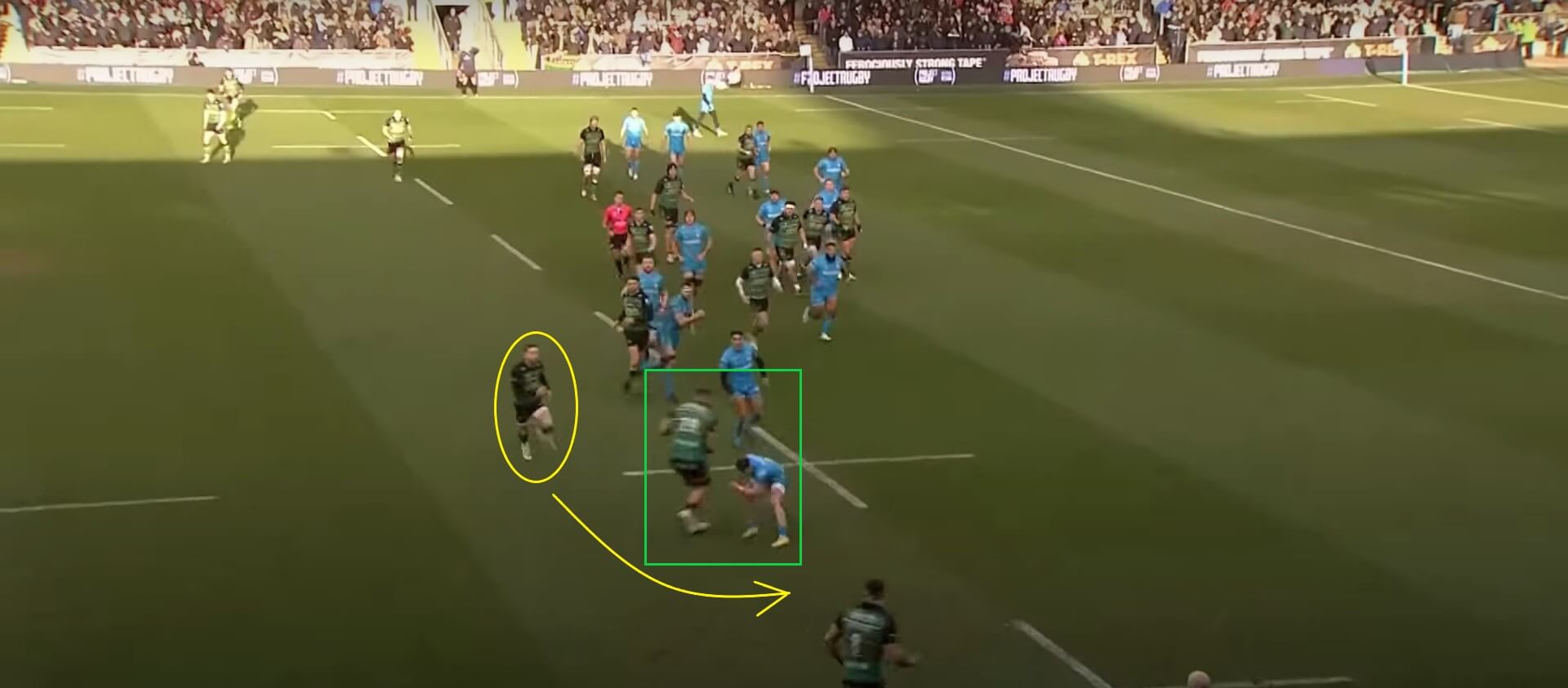 When on form, Northampton are always a difficult side to play against, with their fast-flowing style of rugby making them difficult to contain, and Gloucester were the latest team to struggle to keep them at bay. The Saints had looked dangerous throughout this game and had constantly looked to make quick bursts through gaps in the Cherry and Whites' line, and here they sensed an opportunity to play a grubber pass into the area behind the Gloucester players for powerful Australian forward Lukhan Salakaia-Loto to run onto.
However, they also have the ability to think quickly when ideas don't come off, and the fact that the attempted kick pass didn't work here meant that Salakaia-Loto had to readjust his run and instead move infield to pick up the ball, which had bounced across the field having collided with the Gloucester defenders.
The reason that this is important to mention is because the inverted run pinned Gloucester replacement scrum-half Charlie Chapman in, with him now the only player capable of stopping Salakaia-Loto from breaking through, and that created space on the outside for Northampton to exploit. As can be seen, Scotland centre Rory Hutchinson has read this well and makes the run behind Salakaia-Loto, which ensures that, when Chapman makes the tackle, the Saints can make an offload and keep the attack alive.
At that point, Gloucester are on the back foot, with them having to hurriedly reset in order to limit the amount of territory that the Saints can gain. However, because they are continually moving around and don't have a clear structure, it is easy for Northampton to manipulate them and force avenues to open up, and this is where Hutchinson is really important. Here, he runs towards the sideline and attracts the attention of Cherry and Whites winger Ollie Thorley and captain Lewis Ludlow, with both moving over and leaving a gap open on the inside.
This is where another Northampton player enters the play, with number 8 Sam Graham spotting the gap and crossing over behind Hutchinson to ensure that the ball can move back inside the pitch. Just as with the first phase, it might seem like a tiny point to make, but it is details like this that keep chances alive, and that was certainly the case here as Northampton continued to maintain their forward momentum.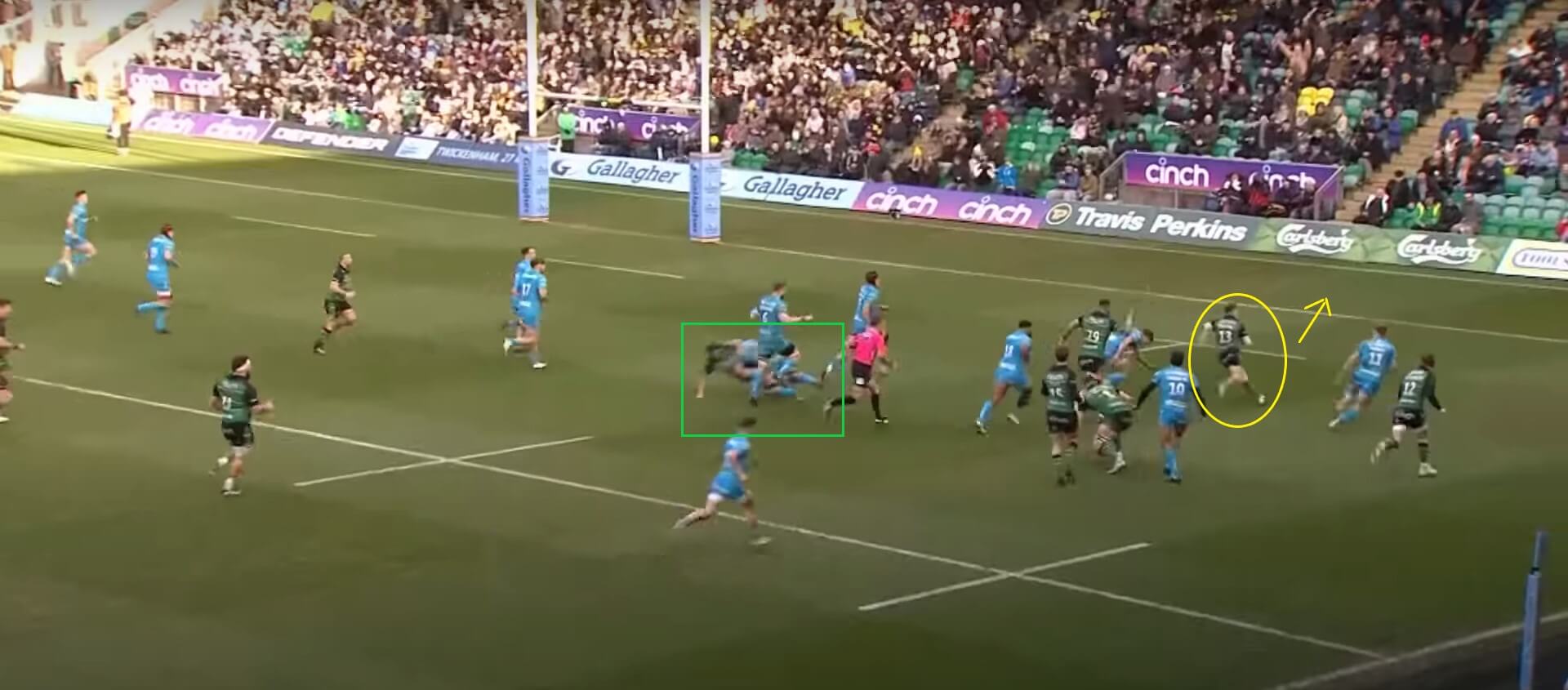 Unfortunately for Graham, his contribution ended abruptly, with versatile Argentina back Santiago Carreras spotting the danger and getting across to tackle the forward before he had had a chance to get too far up the field. However, this still didn't end the attack, as Italy scrum-half Callum Braley had got into a position from where he could receive a pass from Graham and prevent the ball from hitting the ground.
That pass once again sucked Ludlow in, with the flanker moving across to close Braley down, but that was once again key in creating a gap for Dingwall to run through, and the fact that the centre met the ball at pace meant that, even if there had been a Gloucester player trying to tackle him, he would have been difficult to stop.
Therefore, when looking at how this try came about, there was an element of luck in it, as the ball bounced favourably for Northampton after Gloucester had prevented the initial grubber from coming off, but after that it was down to pure skill, good execution and players working together to continually offer support where it was needed, all of which have been highlighted in the analysis.
It was a move that was indicative of the Saints' general tactics too, with their game plan built on moving the ball around the field quickly and constantly scanning for spaces that they can exploit around the field, and, even though they have lacked consistency in their results this season, it is moments like this that demonstrate how dangerous they can be when allowed to get onto the front foot.