It was clear to anyone watching the Six Nations meeting between Scotland and Wales on Saturday evening that both teams are currently on very different paths when it comes to overall quality, and the fact that Scotland won by such a comfortable margin does initially imply that they were able to break their opponents down with significant ease.
However, the game did actually look close for the first 40 minutes, with the home team looking to attack centrally and Wales therefore finding it easy to set up against them. In the second half though, Scotland made some key changes to their tactics that made all the difference, and this tactical analysis will highlight what was altered and why it had such a huge impact on the eventual outcome of the game.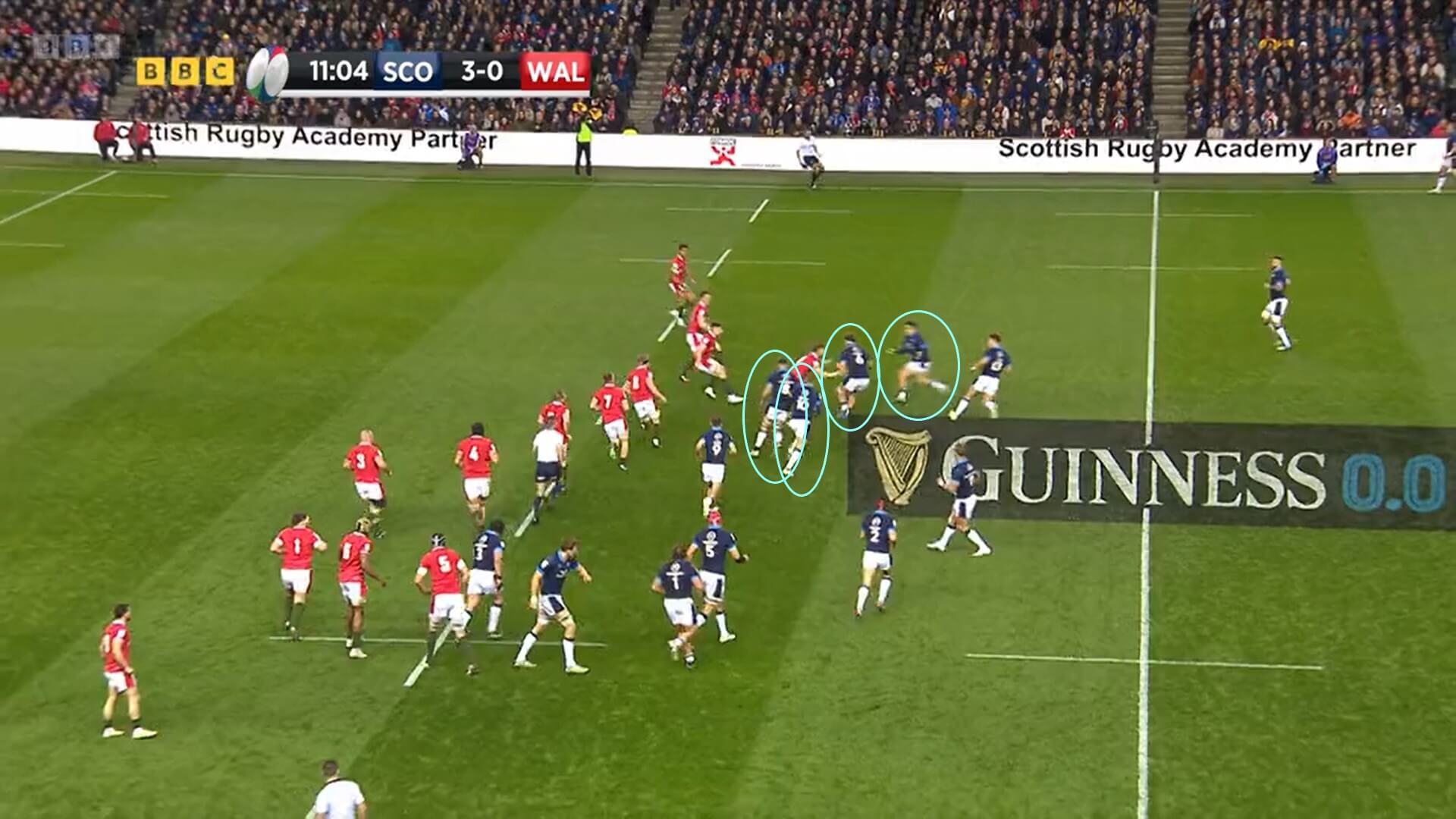 As mentioned, Scotland's initial game plan had revolved around keeping things as narrow as possible and trying to get numbers into certain areas of the field, and the fact that playmaker Finn Russell's three passing options here are all in close proximity to him demonstrates their initial setup.
However, the downside of playing that way was that their passes were never going to cover that much ground, which, for Wales, was exactly what they had wanted as it gave them an ability to press the ball, as former Northampton Saints fly-half Dan Biggar is doing here, and to close gaps off in their line at the same time. Therefore, Scotland's initial tactics played directly into their opponents hands, which was one reason that, for all their dominant ball-carrying, the home side were never able to pull away from their opponents on the scoreboard.
The short passes also meant that there was a greater risk of the ball being lost through players not being ready quickly enough to receive it, and that was also prominent during Scotland's play in the first half. In this case, it is lock Grant Gilchrist who is trying to find a teammate, again not looking too far across and focusing on those nearest to him. However, this time, he doesn't get the support that he needs in time and the ball ends up hitting the ground and being gathered up easily by Wales second row Adam Beard, securing possession for the visiting side.
It is also worth noting how, again, Wales were able to stay compact and maintain that strong defensive shape, as the red line shows, and so, again, Scotland were playing directly into their hands and making life a lot easier for the visitors than they should have done.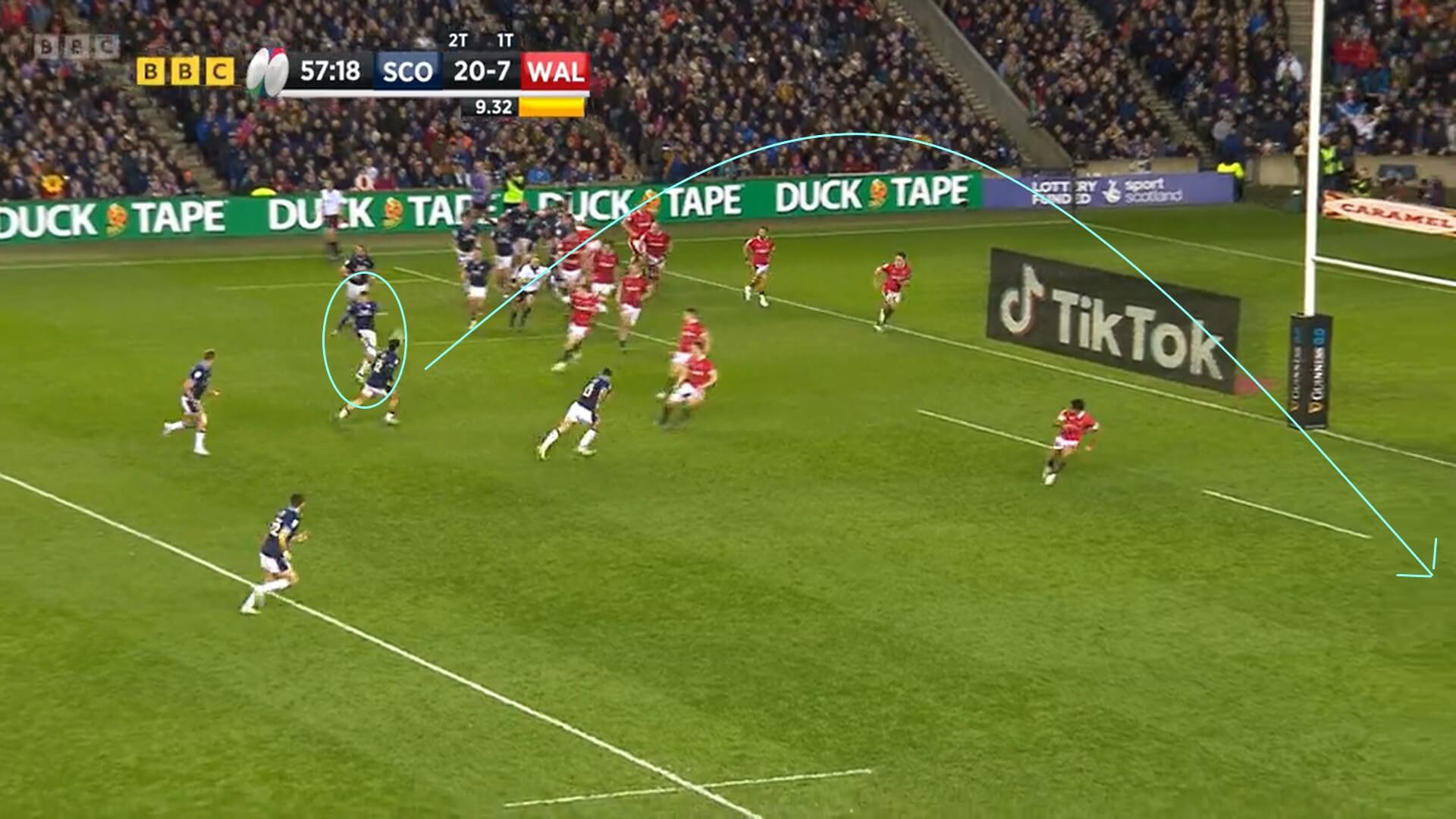 However, as the second half got underway, it was clear that something had changed in Scotland's approach, as they were looking to use the entirety of the pitch much more and were playing a more open and expansive style of rugby.
One player who was central to that tactical transformation was Russell, because it was the fly-half's accurate kicking and good identification of space that enabled Scotland to play this way, with him constantly moving the ball across the pitch and finding areas where his team could create opportunities and pose a more significant threat.
In this case, his long kick towards the nearside of the field led to winger Kyle Steyn grounding the ball over the line for his second try of the game, and so implementing this way of playing in the second half was a major reason that the home side were able to get more points on the board and ultimately win the match.
They didn't only kick though and did look to build phases of play through passing the ball around the field too, but the difference was that there was more urgency in the speed of their passes and players were more spread out, with them no longer focusing on getting numbers into the middle quite as much. Here, Russell has received the ball and spotted an opportunity to play winger Duhan van der Merwe through on the wing, and involving him and Steyn in the game was definitely a key turning point in the match.
The impact on Wales of these tactics was that they could no longer maintain their narrow shape, and that was where they were significantly weakened as gaps between players opened up. In this case, once the ball went out to van der Merwe, winger Rio Dyer ran over to cut him off, but that left space open for the former to send utility back Blair Kinghorn into, and Wales were constantly manipulated into leaving spaces open in this way that enabled Scotland to turn their dominance into points.
Therefore, when looking at why Scotland won this game in the end, it is critical to examine the detail of their play, and there is no doubt that having that tactical flexibility and ability to alter their game plan when things weren't working for them was key. Their first half tactics weren't bad, with it clear in this analysis what they had been looking to do, but the fact that they made those changes is why they won this game.