When London Irish faced Bristol Bears on 8 January, both were languishing at the bottom of the league and really struggling for form. However, since then, the former have put together a remarkable run of form which has seen them win all four of their last top flight matches and climb to fifth in the table, with them now sitting just two points behind fourth-placed Gloucester.
It might seem like they have undergone a tactical improvement and are now reaping the rewards of being brave and changing things around, but this has actually been coming for a long time now, with them always playing a fast-flowing style of rugby under Declan Kidney and Les Kiss and continually building on what they have already done.
This tactical analysis will look at some of the reasons that they have been so difficult to beat of late, highlighting key tactics and players who have been essential to their ability to prise opponents apart, and will show just why a play-off place is by no means unattainable.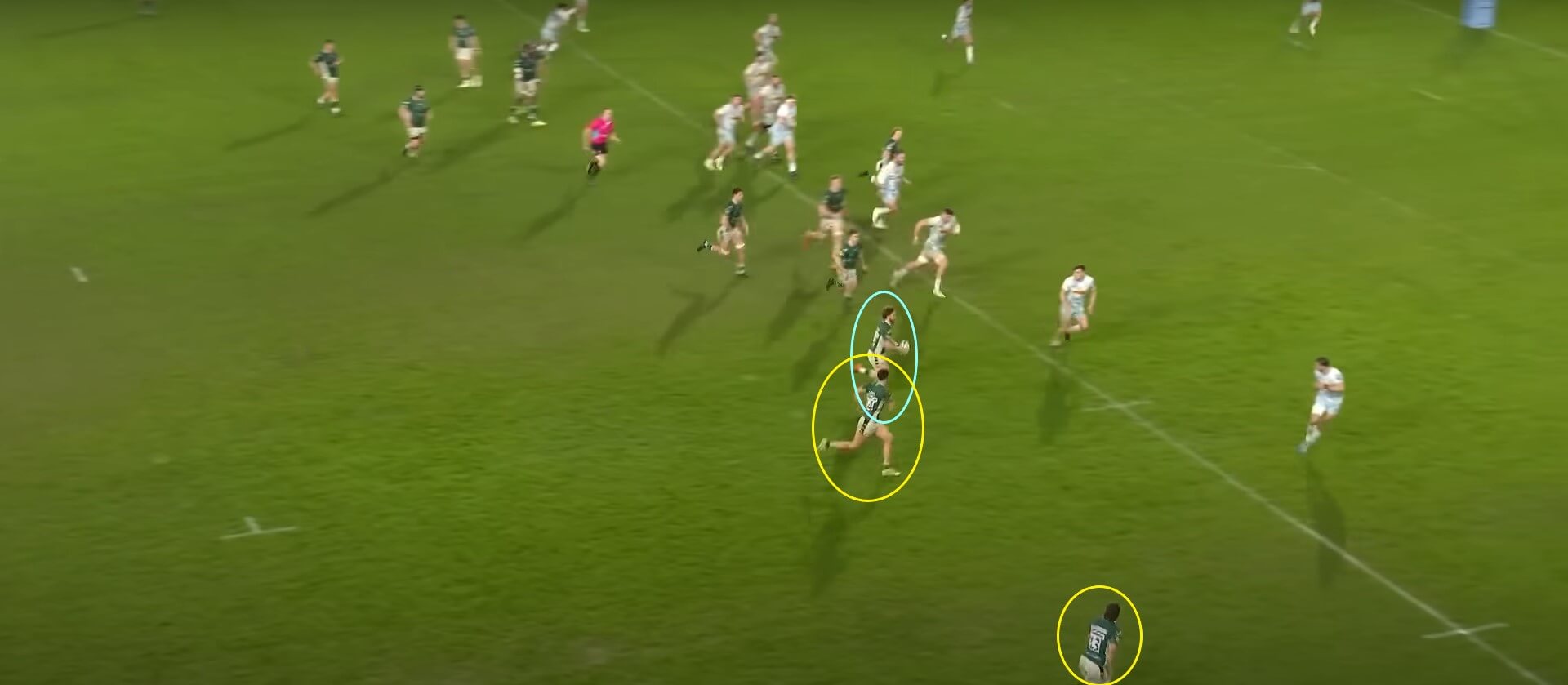 When looking at their overall style of play, one of the key aspects of it is their speed when moving the ball around the pitch, with players often taking just a couple of seconds on the ball and never allowing their opponents to zone in on one player at any time. Getting this right comes down to strong teamwork on the field, as every player needs to be on board with what they are trying to do in order to make the chance of a mistake as low as possible.
Here, utility back Rory Jennings is moving up the field and has Argentina winger Lucio Cinti and South African centre Benhard Janse van Rensburg alongside him as passing options, and it is immediately clear that they are trying to create the numerical overload on the outside and give van Rensburg a route through to the Harlequins try line.
The South African is a player worth taking a moment to look at, because every Exiles fan will agree that he has been central to everything that they have done well this season. Firstly, he can operate in different channels on the pitch, which allows for a lot of rotation in their play, and secondly, he is an outside centre who likes to get on the ball and support attacks.
This is not that common to see on a rugby field, with the 13 normally being a more defensive player who can make key tackles when opposing attackers find space behind the main defensive line, but the fact that van Rensburg offers this threat enables whoever is playing at 12 to focus solely on getting tight to the ball and helping London Irish to maintain their attacking momentum. Therefore, when looking at the strong seasons that players like Jennings and Italy international Luca Morisi have been having, a lot of it is down to what van Rensburg does behind them.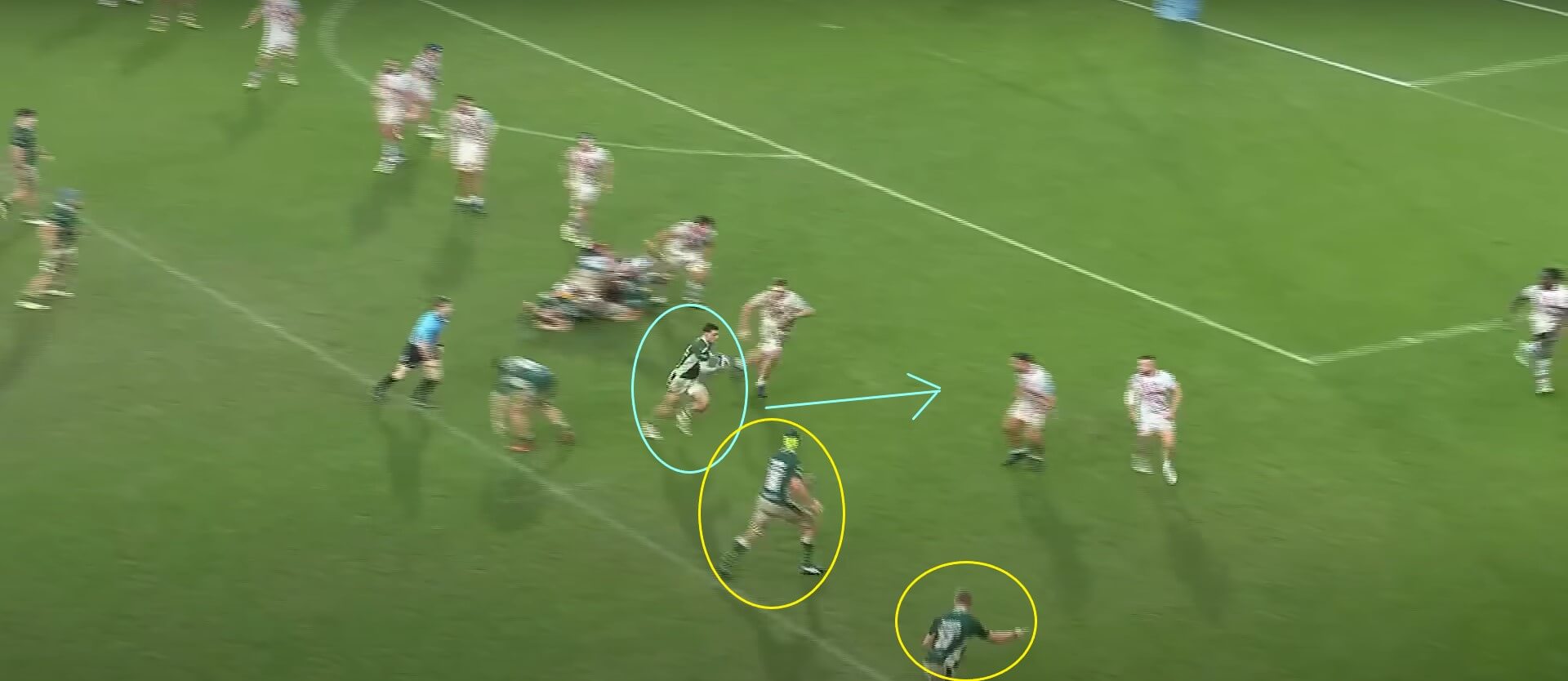 Mixing up play is also important though, as that keeps opponents guessing and prevents them setting up in one shape, and that is something else that London Irish have worked on as the season has gone on.
Controlling the tempo is key, with the Exiles needing to play with a variety of quick and delayed passes, and making those decisions comes down to the quality of the half-backs. More often than not, that has been Scotland scrum-half Ben White and Irish fly-half Paddy Jackson, and the combination of both has given London Irish a good passing range, speed of thought and an ability to find spaces around the field, as well as the aforementioned unpredictability.
In this case, White is looking towards the nearside of the field and has Australian lock Rob Simmons and highly-rated English back rower Tom Pearson available as options, but uses them as a decoy and instead keeps moving towards the Bristol Bears players, meaning that they are now unable to commit to a particular setup. As a result, the scrum-half is able to gain a significant amount of territory before being eventually tackled, but the damage had already been done by then as Simmons was able to keep the attack alive before White finished the move off.
Therefore, again, the ability of these two players to make decisions and control who has the ball and when is another reason that London Irish have been so potent in recent games, and having them available and playing together as much as possible will be important if they are to keep their hopes of a play-off place alive.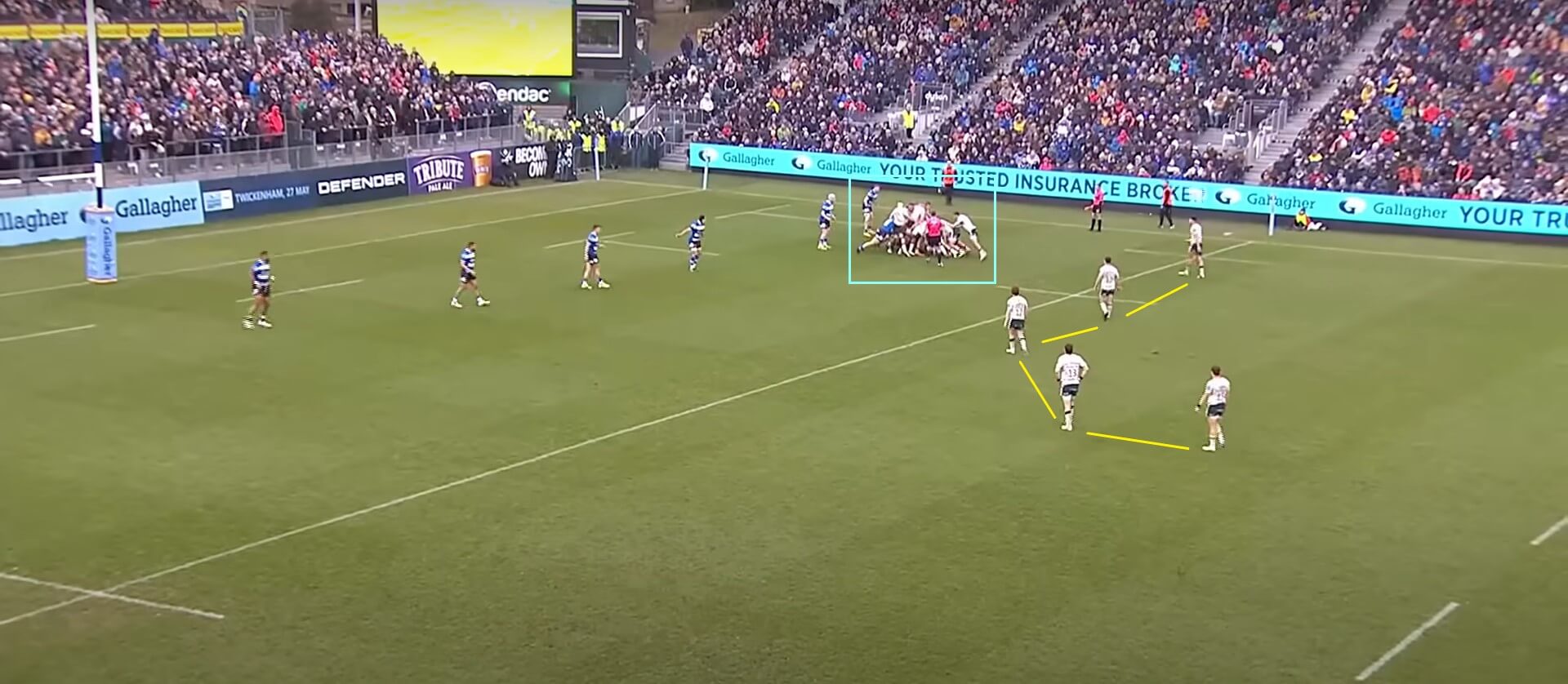 They also have a strong tactical understanding at set pieces too, especially lineouts, and this again comes down to variety and the ability to know when to commit and when to look for other ways to push forwards.
In this case, the fact that their backs have not joined the maul is a clear indication that London Irish are not relying on it to move the ball forwards, and instead, once another of the Exiles' Argentina stars, flanker Juan Martin Gonzalez, has brought the ball down, they are instantly looking for a good exit and a way to move the ball towards the middle of the field.
Looking at the positions of the backs, it is evident that each player is aiming to receive the ball whilst moving up the field, and that shows again how players know their roles and are able to set up in a way that maximises their attacking potential. On this occasion, every detail is executed to perfection, with White sending the ball to Jennings, who then plays van Rensburg through, and the speed and organisation of their play means that Bath have no answer and cannot hold them back.
Therefore, as this analysis has indicated, the reason that London Irish have been able to put together a four-game winning run is because of their strong understanding and belief in what they are being asked to do, and each of the wins in this run has been deserved due to their teamwork and ability to each play their part in the wider effort. The scout report has also identified key components in their play, such as the partnership at half-back and what van Rensburg brings to the side, and it is clear that they are very much on the right track as far as their team progression is concerned.
They face a tough home game this weekend as they look to continue that positive record, with defending champions Leicester Tigers the visitors to the Gtech Community Stadium on Saturday evening, but the fact that they have already vanquished struggling Bristol and Bath, 2021 champions Harlequins and 2022 runners-up Saracens in their last five games will give them encouragement that they can beat anyone, and they are definitely a side worth keeping an eye on to see just how far they can go.