When the news came through in November 2021 that England fly-half George Ford would be leaving Leicester Tigers to join Sale Sharks, returning to his native North West, there were a few Tigers fans who had concerns about how the club would be able to perform without his influence on the field.
However, with the club on a resurgent run under then-head coach Steve Borthwick, there was also a growing belief that they would have the pulling power to attract a high-quality replacement, without having to rely solely on the club's history in order to sell the team to potential targets.
One of those linked with a move to Mattioli Woods Welford Road fairly early on was South Africa international Handre Pollard, who, at the time, was playing for Top 14 title chasers (and eventual winners) Montpellier. Given his exploits at the 2019 Rugby World Cup in Japan, when he demonstrated his consistency from the tee and ability to dictate play from the centre of the field (something that Leicester's tactics are built around), it did seem like he would be a perfect replacement for Ford, and there was a lot of excitement around what he could bring when the Tigers confirmed his move to the East Midlands just a month later.
However, there were some doubts that he would be able to live up to expectations after his move from France, with him needing time to settle and then not demonstrating anything spectacular in his first few performances.
Nevertheless, patience was required, and those who showed it have been rewarded in recent weeks, with Pollard playing a key role in Leicester's run of five straight English Premiership wins and helping them into the play-off places at time of writing, and this tactical analysis will break down exactly why he has been so central to their recent turnaround in form.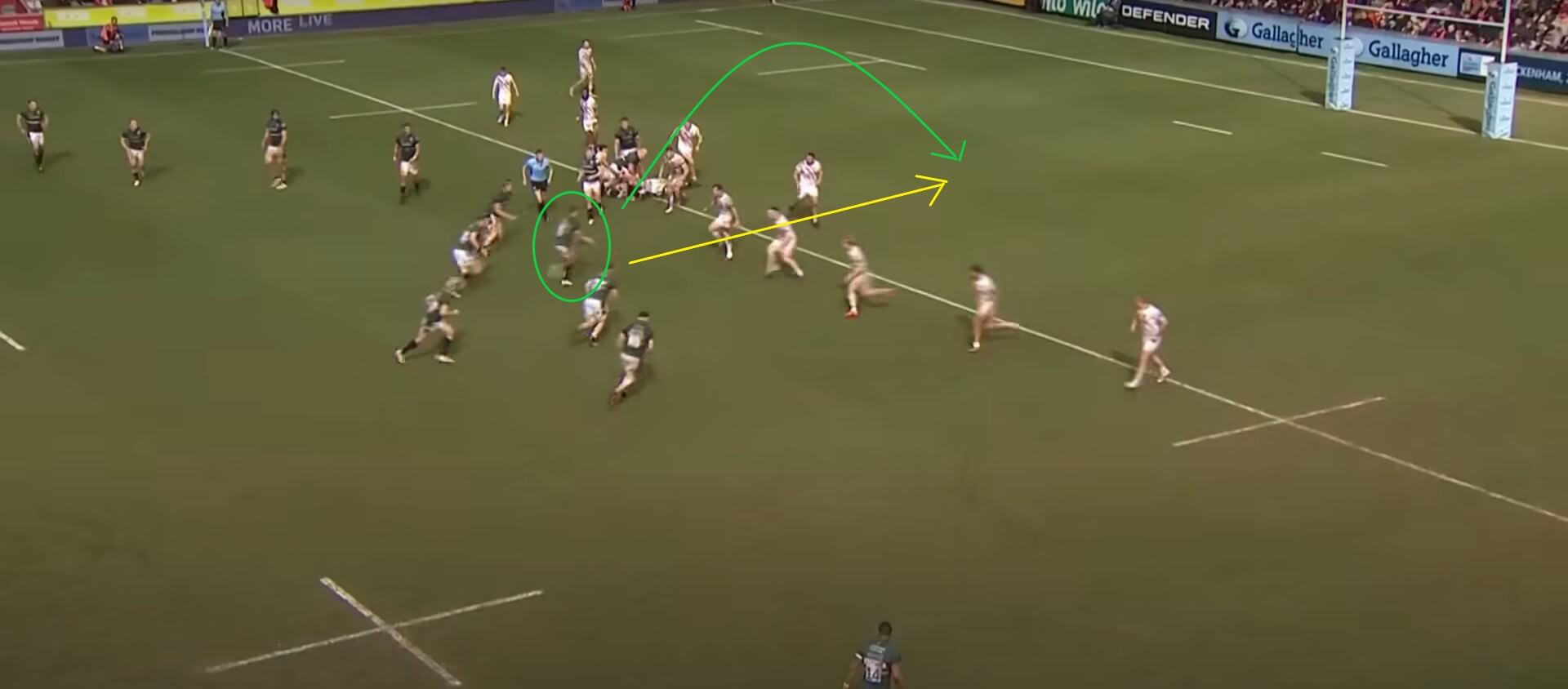 The main thing that a fly-half is associated with is kicking the ball and setting up teammates around the field, and that was certainly something that Ford did a lot of during his second spell at the club.
Since Pollard has been with them though, they have taken that to another level, because, whilst he offers the same ability to find teammates around the field, he has also shown a tendency to chase his own kicks down when he can.
In this case, with Bristol Bears moving high up the field and leaving a sizeable gap between them and their try line, the Springbok has spotted the opportunity to chip the ball over their heads and target that area of the field, and the fact that the Bears focus is on the ball and not on Pollard means that they are caught out and unable to react in time once he regathers the ball behind them.
As a result, he is able to ground the ball under the posts without being under too much duress.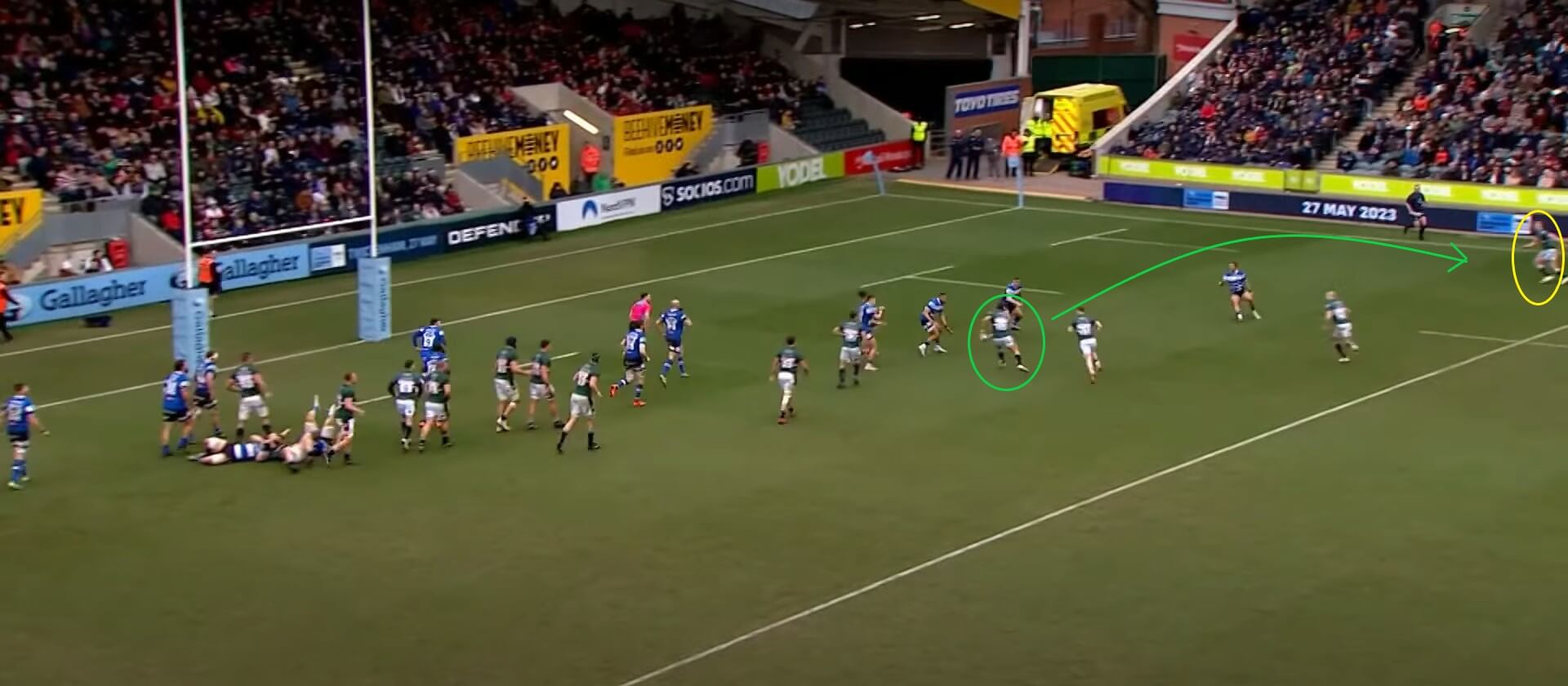 It is not all about kicking though, because Pollard has been just as good with the ball in hand. Here, Leicester are looking to feed the ball out of the congested central areas, and the fly-half has spotted the fact that Bath have drifted infield and left the wide channel exposed and undefended. He has also noticed that teammate Harry Potter is waiting and ready to receive a pass and take the ball over the line, and so sends it in his direction and allows that to happen.
What is key to mention here is the accuracy with which Pollard makes the pass, because it would be easy for him to overweight it or to not put it in the right place for Potter to continue his run, both of which would waste the opportunity and let Bath off. However, the fact that it was executed to perfection shows how Pollard has the ability to control play and ensure that Leicester use what is available to them, and, as mentioned at the beginning of the scout report, this is what the Tigers look for when signing a fly-half.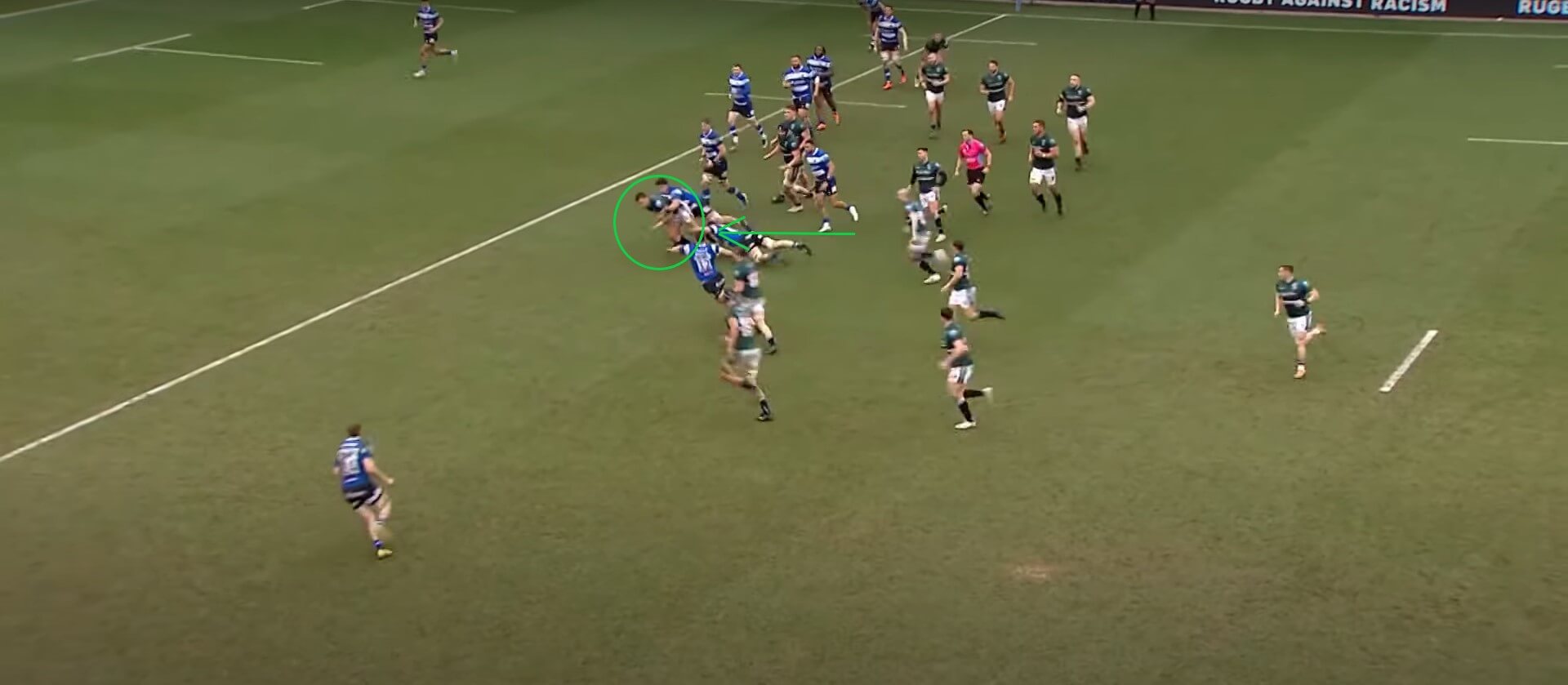 However, he is not only a creator and does get involved in the more mundane aspects of a rugby match too, such as making small territorial gains and continually pushing opposing sides back towards their own try line. Here, Bath, who were down to 13 players at this stage of the game, have left enough of a gap open for him to make a run between them, and, although he is tackled fairly quickly by a combination of back rowers Sam Underhill and Jaco Coetzee, he ends up almost getting his side into the opposing 22m area.
It is also worth mentioning that this burst does eventually lead to a try for Leicester, with Bath having to commit numbers into the middle to prevent the Tigers from doing the same thing again and therefore once again opening up the wide areas to be exploited.
It has not been uncommon to see him make these darting runs during his time at the club, and the fact that he is comfortable getting involved in this part of the game means that Leicester have not only gained an excellent kicker and someone who can create, but also an extra ball-carrier when trying to gain ground and get into dangerous areas of the field, which is something that Ford didn't do as much of during his time at the club.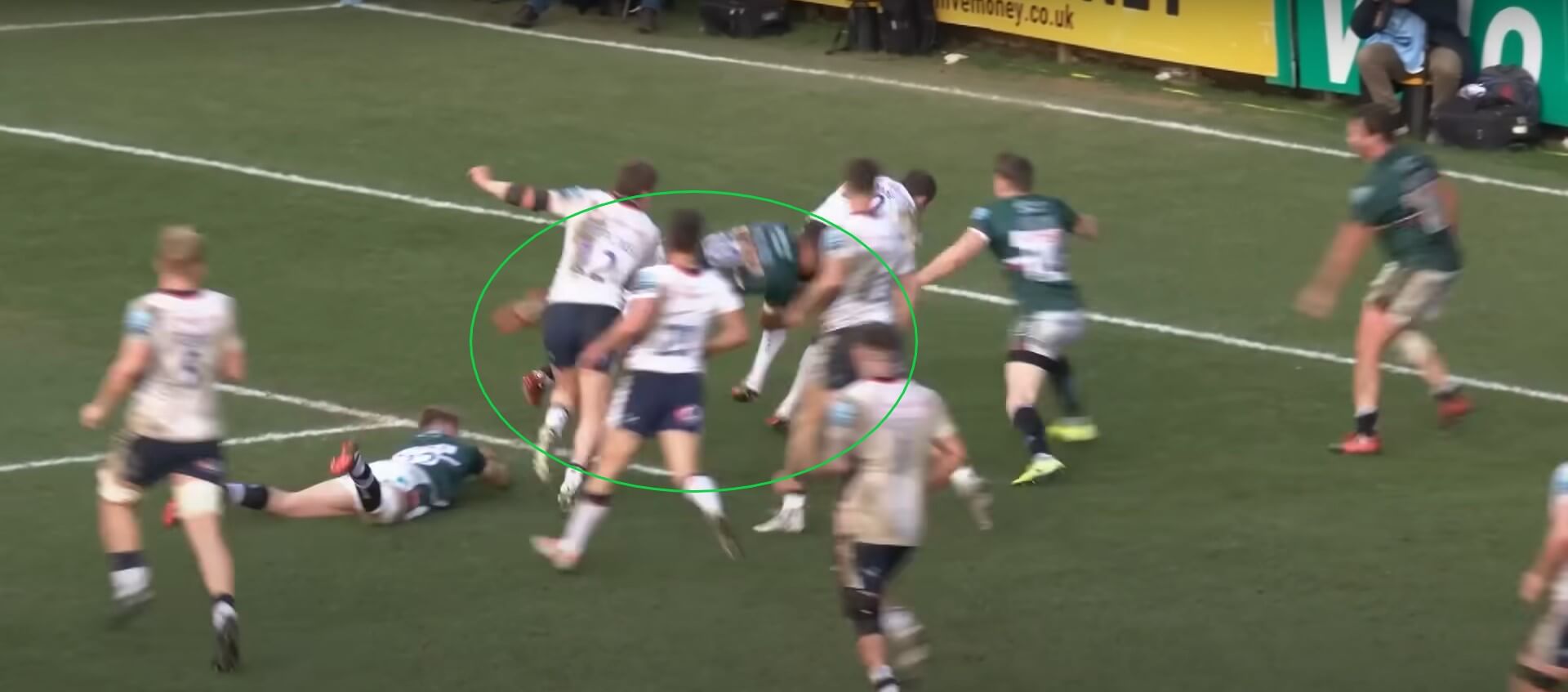 He has offered a lot in defensive scenarios too, with his determination plain for all to see whenever Leicester lose control of the ball. In this case, current league leaders Saracens are looking to convert their pressure into a try and have made it up to Leicester's line after several phases of strong carrying and driving up the field. At this point, it looks as if Leicester's resilience is going to be for nothing, with Alex Goode running between the Tigers players and looking likely to finally secure the points for the visitors.
What Goode hasn't accounted for though is the natural instinct of Pollard to do what is necessary without overthinking the situation, and here, the South African, who was initially caught out by Goode's sudden change of direction, has got airborne and has thrown himself towards the utility back, wrapping his arms around him and bringing his attack to an abrupt end. By doing so, he slows the play down and allows his teammates to move across the field to close off the spaces ahead of the ball, and the fact that Saracens are unable to get to Goode in time allows Julian Montoya to get over the ball and Ben Youngs to clear his lines.
However, it was Pollard who made the vital intervention here, and it is not the first time that he has been seen running back and making critical tackles around the field, and this is another quality that Leicester have gained through his addition to the fold.
Leicester Tigers' five wins in a row have helped them to make a very quick recovery in the league, with it looking at one point like their season was heading for a disappointing conclusion, and one of the main reasons for it has been the form and improvement shown by Handre Pollard.
As the analysis has demonstrated, they would simply not be where they are right now without him, and those who had doubts will surely now be thankful that the club persevered and allowed him time to show what he can really do, and, if they are to have any chance of making it all the way to Twickenham and defending their title, then they will need their South African star to maintain his form and keep showing why the Tigers' decision to move for him was ultimately a really positive one.